Priscilla Hill, a nationally-known figure skating coach, loves Lucy!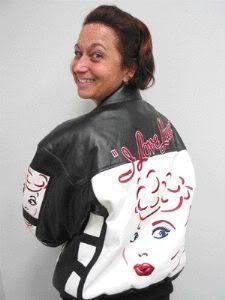 From
The Post-Journal
:
''When I was little, my mom would sit me in front of the TV, but I would sit still long enough only for I Love Lucy. I guess I would say,'Ucy, Ucy, Ucy, I want to watch Ucy,' '' Ms. Hill said. ''I watched her and I think she's hysterical.''

It was only a few years ago, when the first North Atlantic Regional competition was held in Jamestown, that Ms. Hill visited with skaters and discovered Lucy's hometown in Celoron and that the comedienne's childhood was spent largely in and around Jamestown.

''I went right to the museum and picked this up,'' she said, pointing to her jacket.

She describes Jamestown as comfortable and similar to her native Lake Placid, N.Y. She loves the rolling hills here, the changing leaves and eventually, yes, the snow.